Bitcoin prices have fallen further, maybe due to China's crackdown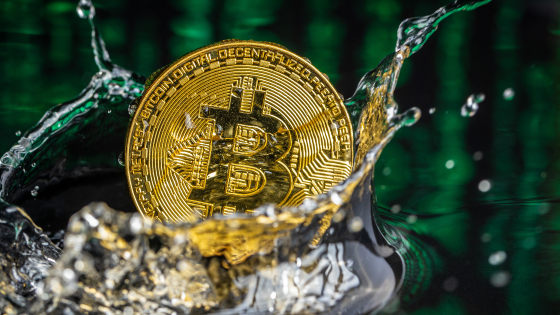 CEO Elon Musk has pointed out
that the price of crypto assets (virtual currency) Bitcoin is increasing and decreasing, but this time it turned out that the value of Bitcoin has declined due to the tightening of crackdowns in China.
Crypto Market in Freefall: Bitcoin Falls 30%, Ethereum Falls 38% --Decrypt
https://decrypt.co/71360/crypto-market-crash-bitcoin-ethereum-plummet
Bitcoin falls almost 30% after China crackdown | Bitcoin | The Guardian
https://www.theguardian.com/technology/2021/may/19/bitcoin-falls-30-after-china-crackdown
Explainer: What Beijing's new crackdown means for crypto in China | Reuters
https://www.reuters.com/world/china/what-beijings-new-crackdown-means-crypto-china-2021-05-19/
The price of Bitcoin, a virtual currency, began to rise from the end of 2020, and by the beginning of April 2021, it had risen to about 6.89 million yen per BTC. This is related to
Tesla's announcement that Bitcoin will be available for car purchases, but when it is announced
that Tesla's Bitcoin purchase will be suspended as a result of considering the impact on the environment, the price Has fallen sharply. It was about 5.23 million yen per BTC, and the value of the entire cryptocurrency market decreased from about 266 trillion yen to about 225 trillion yen.
40 trillion yen blows away after Tesla stops 'buying a car with Bitcoin', Elon Musk justifies on Twitter-GIGAZINE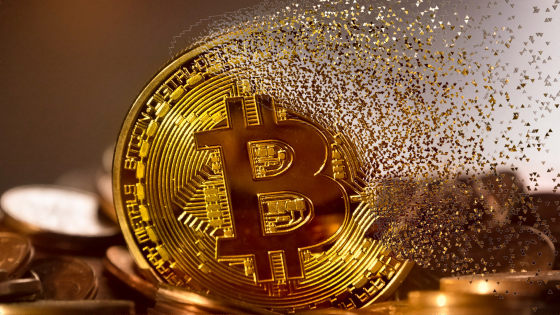 After that, the price of Bitcoin dropped further from around May 18, and at the time of writing the article, it was about 3.98 million yen per BTC.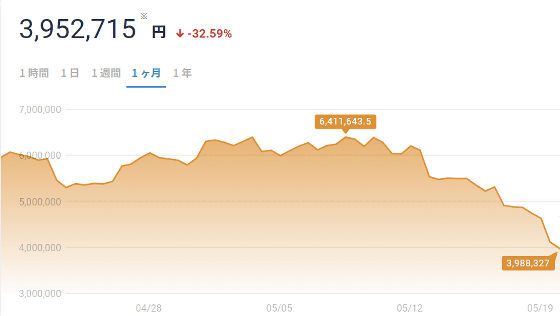 The fall is believed to be due to a crackdown on the use of cryptocurrencies in China. In China, regulations on virtual currencies were set in 2017, but on May 18, 2021, financial industry groups told banks and online settlement companies, 'Account opening, registration, transactions, settlement, settlement, insurance. Please do not provide services related to cryptocurrency assets such as ',' he called again for the regulations in 2017.

In addition, the People's Bank of China has introduced a new ban. This measure has made it clear again that financial institutions are prohibited from accepting cryptocurrencies or using them as a means of payment settlement. It was also forbidden to exchange RMB and foreign currencies for virtual currencies. In addition to cryptocurrency savings, trusts and pledges, the provision of cryptocurrency-related financial products and the investment of trust products and funds are also prohibited.

Bitcoin prices have fallen 30% in 24 hours due to a crackdown by Chinese authorities.

'Recently, cryptocurrency prices have skyrocketed and plummeted, speculative cryptocurrency trading has rebounded, invading people's property security and destroying fiscal order and the economy,' regulators said. I mentioned in.

Bitcoin is not the only cryptocurrency whose price has fallen. The price of Ethereum plummeted by 40% in 24 hours to 240,000 yen.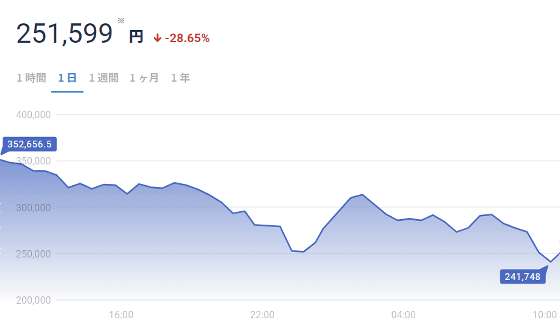 Dogecoin also fell.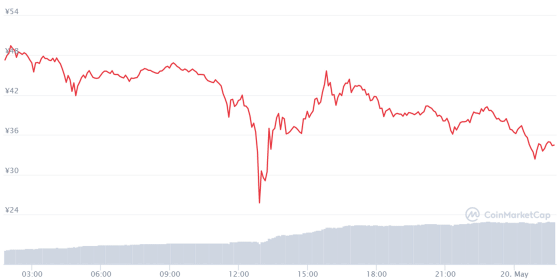 In addition, Tesla CEO Elon Musk sees the impact of Bitcoin on the environment as an issue to be solved, but on his Twitter, 'Tesla has diamonds' suggests the possibility.

Tesla has ???? ????

— Elon Musk (@elonmusk) May 19, 2021
in Note, Posted by logq_fa